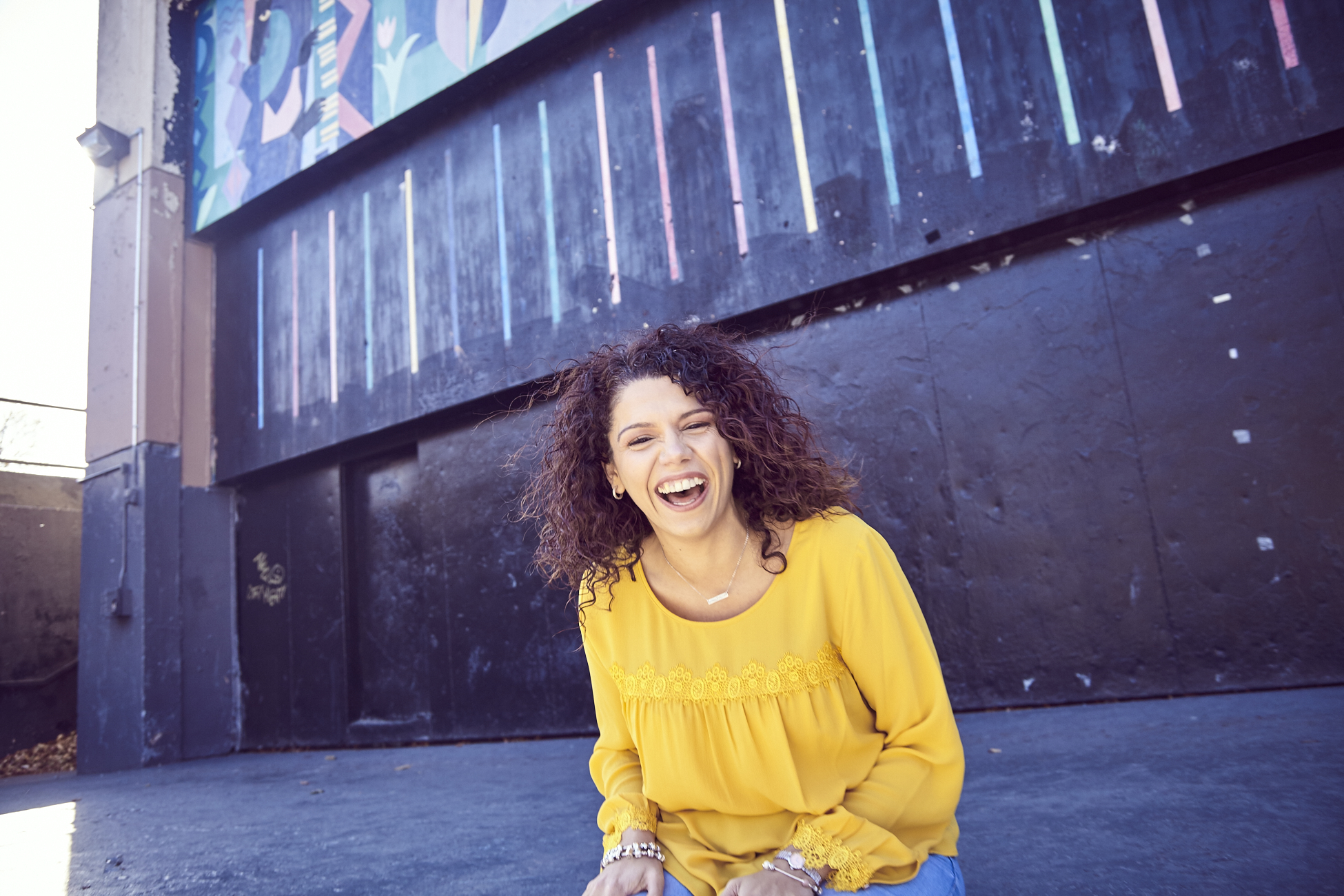 Ever woken up one day and felt like you're unable to breathe? Like out of the blue, the life you've been living in so comfortably has shrunk, and is, like, 8 sizes too small?
Flashback to 2014 -
I had the job I'd gotten before I even graduated college - which I joked, had helped me make it before I even began. It was great, I enjoyed what I did. And it was my whole identity. My nearly 1 hour commute to work each day was sandwiching my 12 - 14 hour work days.
I was living in a beautiful apartment. I weighed 304 pounds. I was numbing every negative feeling I had with either a shopping spree or food. I felt there was never enough time in the day. I was lonely. I hadn't dated in a while. I never saw my friends and family - missed and loved them - and when I did finally find time to see them, I was agitated.
I ordered take out all the time because I was too tired to cook, and never had time to go food shopping. My job paid well, but my priorities were so warped that I would often pay $100's of dollars in late fees because I didn't make time to actually sit down and pay my bills.
And as I moved through the motions of life on autopilot, zero connection to my Soul, but waking up to how suffocated I was, I wanted to make a change, but was incredibly overwhelmed and had no idea where to start. And every time I thought about it, all I could hear was,
I have always had a push/pull relationship with relaxing, and on the flip side, getting out and jam packing my day. I crave both so badly, but at this time in my life, no matter how spacious or packed life was, things just felt heavy. There was no balance. No matter how hard I tried, I couldn't leave work on time. I always felt the need to treat myself with food or new things - but seldom did these treats feel rewarding.
When I became painfully aware that something was very off and that my life just didn't fit anymore, I was shown that the Universe works for you when you get curious enough to look a little deeper.
A friend of mine is a die-hard Oprah fan, and she loved going to Oprah's weekend "Live Your Best Life" events, held annually. She had arranged a big girls' weekend to go in October 2014. I decided to go, hopeful, but not attached to any outcome. On the first day, there was a huge sign with the quote....
I saw that and knew I needed to overhaul my entire life, but paralysis struck me. And the only thing worse than feeling like things are not the way they should be is not having the faintest clue on how to change them. Where would I even begin?
Going to see Oprah really jolted me. When I got home, I took inventory of everything that felt off. I was texting a friend shortly after returning about my new realizations, and how I was craving more. Two days later, he texted me a flier he had received for a Tony Robbins event. I had never heard of Tony Robbins, but went on the website and saw the event would be in March, in North Jersey. The town I grew up in and joked that I couldn't even be PAID to go back to. I already had the 4 days of the event off, because I had just cancelled a trip to Mexico. And while the event was a little pricier, I put my information in anyway.
I was craving a bold move.
The next day I received a call from a sales rep. I gave my credit card information. And I took a leap (that to me was just a step).
The Tony event was 5 months out - and as life would unfold, I ended up moving to North Jersey 4 days after the event. When the event came around, I was ready. Instead of seeing obstacle after obstacle in my life, I was seeing opportunity after opportunity. I left the 4-days feeling empowered, focused on my health and my finances. On the last day of the seminar, the thought of not waiting until the next day to start was shared -
"Why wait? StaRt the moment you walk out of here."
I began. I chose health. I chose prioritizing paying my bills on time. I moved in to my new home. I made it a home and truly settled in. I began eating completely differently. All of my attention was on structuring my time behind priorities to make my life better, with my health being at the top of the list. I was closer to my friends and family - I knew I missed connection, but I had no idea just how much I missed them. For the first time in a long time, I felt at home.
I used to crave, seek, and grasp at how to get control of my life. How to draw the line and leave work on time. Not have the snack. Not buy the extra shirt. I thought it all had to shift at once. But over time I've come to realize that the better way is to take baby steps.
Each baby step I took gave me more of the control I was so desperately craving for years.
These days, I have found my balance of jam packed and slow paced. I've discovered that my very joyful medium is sleeping in late, having a lazy morning, and then having a busy rest of my day, but I didn't get here overnight.
I've taken my transformation day by day. As I took each small step back toward me each day, different areas of my life became more painful to keep than to release. I could see I was evolving in the things I was choosing to do, the people who I found myself surrounded by, and the way I was waking up feeling each day. I started to travel more - which seemed impossible in the years prior. Joy felt much easier. I still had much work to do, but I embraced it with open arms. And I found I had space inside of myself to embrace more in my life without having to let other things go.
Since deciding to push pause on numbing habits, life has taken a complete 180 turn. The old me would never recognize the woman I've become. In the tiniest of choices...simple things like making time for consistent workouts - AND IN THE MORNING, or having a dog since she was a puppy and spending time with her; every time I consistently reach for a water instead of a soda (which I never thought I'd stop drinking!), I can't help but marvel at the life I've created. Things that seemed like completely foreign ideas - like things that I would never be able to do - I do on the regular. I made my life what I always wanted it to be, but never thought it could...and I did it through
One day I was at a self development event, and the speaker, who was a life coach, was talking about his journey to becoming a coach. My jaw dropped because he started literally going through the list that I had held in my heart as things I wanted to start adding into this new space inside of me.
There had always been so many different moving parts that I didn't know how to fully incorporate them into something that made sense with all I already had going on. I had wanted to be a teacher through my entire childhood. One year my Dad got me a teacher's gradebook from Staples as a birthday gift and I remember thinking it was the most amazing present ever. I've also been an entrepreneur since the 3rd grade. Back then I sold rocks and little trinkets, developed a team, and paid them (about 75 cents) a week. And as I sat in the audience listening to this guy speak, my job description was one that I had created - entrepreneurial in spirit, my own hours, giving back and helping people...
It hit me like a ton of bricks that this was something I could easily add into my life - and it would LIGHT ME UP. I started looking into certifications, and at dinner with some girlfriends one night, someone said, "Regardless of what you do with it, I bet the certification process will be really interesting and you'll learn a lot."
Boom, the pressure was off. I moved forward and found a school - iPEC - that truly resonated with me. I enrolled & completed my certification shortly after.
And here we are today-
It's taken me a long time to get to being able to see the gift in that year I spent completely lost and at rock bottom. But it is only because of the time I spent there that I was able to rebuild myself. Now, I am now able to not only appreciate, but respect my Self and my time. It is a conscious daily choice I have to make, and some days it is harder than others. But the work involved in maintaining a life of growth and fulfillment comes with so much more meaning & richness than the comfort of the unknown. Deciding that running and numbing my feelings and challenges were no longe options - that I had to face them, no matter how scary, has taught me that...
The most critical paRt of taking my life back into my own hands has been cultivating simple, daily self care rituals.
Now that I coach (more about working with me here), I am truly so grateful that I've been through what I have been through. My experiences are what allow me to fully support and serve others on their own journey through the path of taking back control. Glennon Doylesaid once in a talk, "figure out what causes you pain, and then run towards It."
These days, the main source of my pain is a woman not tapping into her fullest potential in life. It pains me to see women trapped on the outside of their own magic, simply watching it happen to everyone else around them. My coaching programs are my version of running towards that pain, meeting women where they are, and helping them take baby step after baby step to get where they know they can be living.
I WISH I would have had a guide explaining me how to make it my own when I started out, and so I've put together one for you! I'd love to send it to you to help you get started. Just let me know where where by entering your name & email below, and it will be on it's way!